29. Oktober 2011 / 20.30 h
audio-visual concert night at

Sint-Lucas-Academie / Sint-Lucas Beeldende Kunst / Zwartezustersstraat 34 / 9000 Gent, Belgium

Room C05, near the big sculpture class

Visual Sounds – Musik Intermedial /
Experimental Intermedia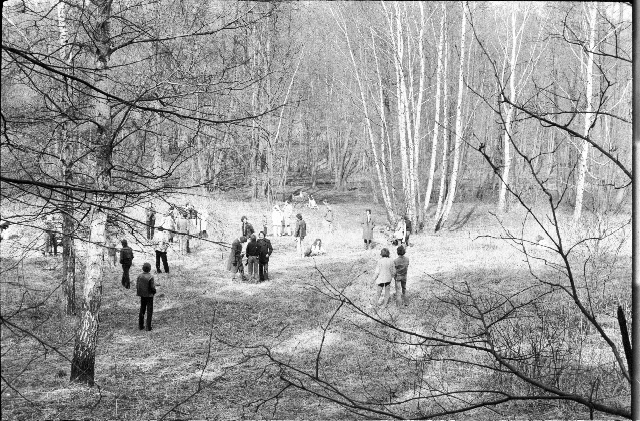 Invite to a free (donations welcome)
Programm:
Rolf Julius
Für eine Weite Ebene (2010) / 25 Min
Guy De Bievre – Sofia Bustorff
FALL / 26 Min
Phill Niblock
/Music Baobab ONM 2011 / 23 Min
/Sethwork 2003 / 22 Min
Guy De Bievre, guitar, live
/Seth Josel, recorded guitars with Film/Video: THIR 1970, / 43 Min
Curated by Maija Julius and artist-curator Georg Dietzler. Photo: (c) Jens Schumann  Konzert für eine große Wiese – Elefantenmusik von Rolf Julius  Berlin 1981
Guy De Bievre – Sofia Bustorff: FALL
Fall is a new piece in which live music (lap steel and computer) interacts in real time with video. The title can be interpreted in many different ways, but generally refers to gravity and downward motion.
Phill Niblock
Music Baobab ONM 2011 23 minutes, a recording of the premier performance of a scored orchestra piece, played by the Janacek Philharmonic Orchestra augmented by members of the Ostravaska Banda, conducted by Petr Kotik, and presented at Ostrava New Music Days 2011 in Ostrava CZ, September 3, 2011

Sethwork 2003, 22 minutes – with Guy De Bievre, guitar, live; Seth Josel, recorded guitars
Film/Video: THIR 1970 43 minutes.This film was part of a long series of projects which concentrated on images of nature.