6. November 2011 / SO / 20.30 h
Theater die wohngemeinschaft & gerngesehen

FAULTY (BROKEN ORBIT)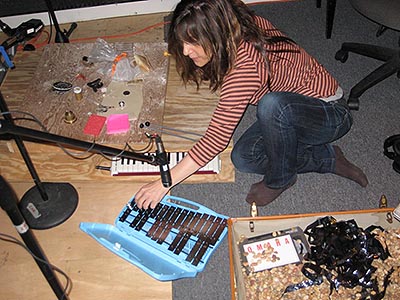 Elektronisches Akkordeon, selbstgebaute Klangobjekte, Echtzeit Elektronik, Computer atmosphärisch, literarisch, gestisch, dynamische Musik
FAULTY (BROKEN ORBIT/broken acts) ist ein Raum-Konzept-Konzerte atmosphärischer, literarischer, gestischer, dynamischer Musik komponiert für gesteuerten Zufälle, beeinflusst von den Cartoons Rube Goldberg's Inventions! , von Filmen und Videospielen Rube Goldberg's machines.
Andrea Parkins's Schifferklavier, die selbstentwickelten Klangobjekte werden elektronisch verstärkt und gesteuert. In ihre konzertante Klangforschung werden die vorhandene Raumakustik, die Klangarchitektur des Wohnzimmer Klub-Theaters eingebunden. Klangreflektionen, -verzögerungen des Veranstaltungsraums und Rückkopplungen werden in Echtzeit über freiverfügbare Open Source Programme verfremdet, mehrfach überlagerte fragmentarische Improvisationen, Klangpausen entstehen, das ein oder andere Klangobjekt fällt während der Musikperformance unerwartet klingend auseinander, im amerikanischen eben faulty, broken acts.
Andrea Parkins/New York ist Komponistin, Klangkünstlerin, Klanginstrumentenerfinderin und Multi-Instrumentalistin bekannt für ihr ausdruckstarkes, theatralisches Akkordeonspiel kombiniert mit selbstgebauten elektronischen Fantasieinstrumenten und Objekten.
FAULTY (BROKEN ORBIT) CD
Some time ago, composers such as John Cage, Yoko Ono, and Alvin Lucier explored the concept of pure sound as music, or perhaps more accurately, music being pure sound. It could be produced deliberately, accidentally, or could simply be the sounds of a particular environment. Electronica artist Andrea Parkins's FAULTY is the result of a New York City art gallery show wherein sounds of surfaces and devices were amplified and set against the sound of Ms. Parkins's amplified and electronically treated accordion. While not exactly easy listening, FAULTY is quite literally music of the spheres, the music of what happens, the music of chance.
My solo performance uses as it sonic materials electronically processed accordion, feedback, amplified objects and other electronics; and while conceptually related to the ideas I describe above, is constructed, and with more intentionality. It is dynamic, gestural and – of course – performative. Incooperating the concert venues accoustics.
Andrea Parkins is a composer, sound/installation artist, and electro-acoustic multi-instrumentalist especially known for her uniquely gestural, textural approach to her electronically-processed accordion and customized interactive electronics. Together, her laptop electronics and Fender-amped accordion create a sonic field of lush harmonics, concretized disruption, and soaring electronic feedback.
Foto von Johannes Horn
www.andreaparkins.com