Konzert

6.  November 2015 /FR/ 19 h
Kunststation St Peter,  Jabachstr. 1, Köln

the eternal chord
Claire M Singer & Mike Harding /London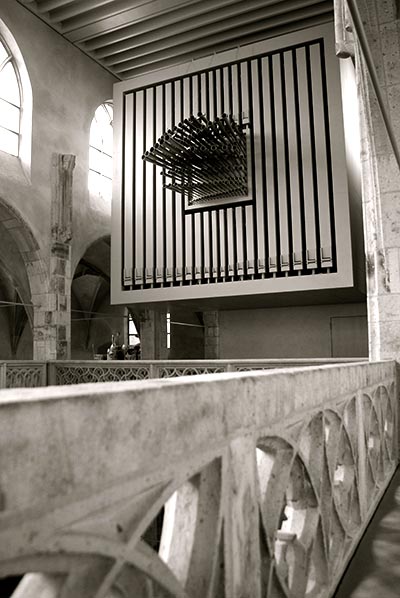 Orgel und Elektronik in der Reihe Raumklänge – Ortsbezogene Musik,
eine Plattform für raumerforschende Musik, Hörstudien und erweiterte Aufführungspraxis.
PROGRAMM:
The Molendinar
Claire M Singer
(Organ and Electronics)
Wrangham
Claire M Singer
(Organ and Electronics)
the eternal chord
Claire M Singer & Mike Harding
The Eternal Chord is an improvised organ piece …
There is no "correct" way to play the organ. Of course, there are strong and long traditions of how it should be played and by whom, but in the realm of time these rules count for nothing.  The instrument has the largest frequency range of any acoustic instrument, and this unique aspect grants great freedom to the players. ALL STOPS OUT!!!
Based on an idea by Mike Harding which grew out of the Spire project (www.spire.org.uk), any number of players from two upwards can perform this majestic piece. Hildur Gudnadottir, Anna von Hausswolff, Maia Urstad, Marcus Davidson, Charles Matthews and others have all played alongside Mike Harding to offer various renditions of The Eternal Chord.
For these concerts, Mike is joined by Claire M Singer (www.clairemsinger.com), who has been widely commissioned, exhibited and performed throughout Europe and North America. This includes acoustic and electronic composition, fixed media, multi-media, installations and live electronics.

Veranstalter: freies rheinland e.V. und Kulturabteilung der Stadt Pulheim in Zusammenarbeit mit der Kunststation St Peter
Kurator: Georg Dietzler
Raumklänge – Ortsbezogene Musik wird gefördert im Rahmen der regionalen Kulturpolitik NRW, vom Ministerium für Familie, Kinder, Jugend, Kultur und Sport des Landes Nordrhein-Westfalen, Kunststiftung NRW, Konzert des Deutschen Musikrates.