Dienstag / 20 h
5. Mai 2015
Köln / Gold+Beton, Ebertplatz Unterführung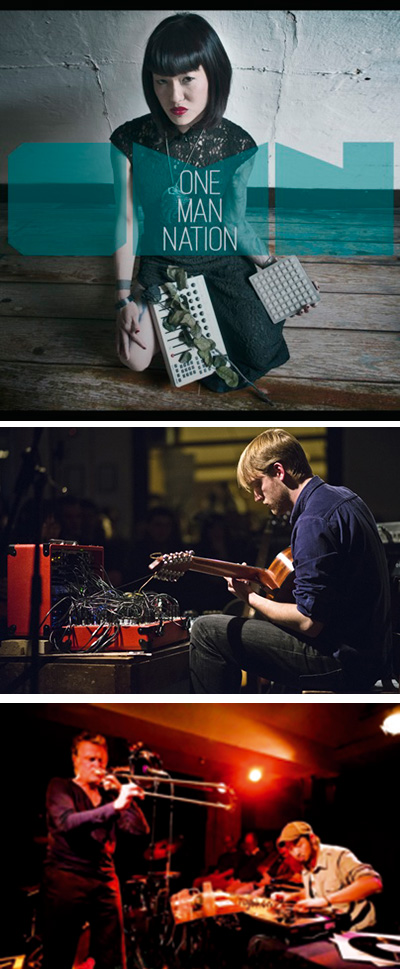 Cam Deas
Paul Hubweber & DJ Sniff
One Man Nation aka Tara Transitory
Cam Deas (London/UK) 12 saitige akustische Gitarre und modular Synthesizer
Paul Hubweber (Aachen)/Posaue &
DJ Sniff (Takuro Mizuta Lippit/ Hongkong) /Plattenspieler
One Man Nation aka Tara Transitory (Singapore)
Elektronik
Ein Abend, drei Konzerte. Zweimal musique concret, akustische Instrumente und Elektronik  plus Tara X mit ICE Hochgeschwindigkeitselektronik und einem Hauch von Noise. Vier Musiker, die immer wieder überraschen, live vor Ort.
——
Cam(eron) Deas
"Cam Deas most recent record, String Studies, was released by Alter, Luke Younger/Helm's label.  "…the notes of his 12 string acoustic are raw material for violent sculpture, torn apart and flung about separately by the manipulations of his modular synth, bouncing around the space in a hyper-kinetic match of sound squash." – The Wire
Cam(eron) Deas is an experimental musician based in London. Currently working with electronics, he uses an integrated array of synthesis techniques that are triggered by, and in turn manipulate, external acoustic sound sources, in and out of conjunction with pure electronic sounds. Working in an entirely live environment, Deas creates a kind of real-time musique concrete, resulting in an abstract yet organic contemporary electronic music. Also known for his work as a guitarist, Deas's debut LP for his electronic work, String Studies, is a suite that focuses on using the 12 string acoustic guitar as the sole sound source of this live musique concrete: a wooden frame to an electronic music.   www.camerondeas.com
——
DJ Sniff

DJ Sniff (Takuro Mizuta Lippit/ Hongkong) mit flinken Fingern am Turntable, selbstprogrammierter Software, im Geschwindigkeitsrausch improvisiert  DJ Sniff mit seinem musikalischen Vinyl Musikarchiv, zusammen mit Paul Hubwebers virtuos, imposantem Posauenspiel. Takuro Mizuta Lippit ist Musiker, Kurator im Bereich der experimentellen elektronischen Künste, er improvisiert meist mit Plattenspielern als Instrument, war von 2008-12 künstlerischer Leiter am STEIM/Amsterdam, seit 2012 lehrt er an der School for Creative Media in Hongkong.
djsniff.com
www.youtube.com
www.k11artfoundation.org

CD on GLIGG Records
www.gligg-records.com
——
Paul Hubweber
Seit mehr als 30 Jahren spielt Paul Hubweber mit vielen europäischen Größen des Free Jazz und der Improvisierten Musik zusammen und hat sich zu einem der wichtigsten Erneuerer des Posaunenspiels entwickelt. Seine Technik "vereinigt eine Vielzahl an kleinen Tönen: gedämpfte gebogene Bilder, Schnellfeuer-Punkte, Knacken, Knurren und Brummen, um nur einige zu nennen. Er beeindruckt als Performer, der die Grenzen seines Instruments intermedial erweitert.
www.paulhubweber.com
——
One Man Nation aka Tara Transitory

One Man Nation aka Tara Transitory (Singapore) Elektronik und circuit bending, sehr kraftvoll, energiegeladen richtung noise –  hat auch mit Takuro in Projekten zusammengearbeitet. Arbeitet an der Schnittstelle vonTransgender, Noise, Schamanismus und Ritualen in Musik und Film und Medienkunst.
Concurrent to all that, I am planning to organize 3 editions of the International //gender|o|noise\\ Festival in Chiang Mai (Thailand), Phnom Penh (Cambodia) and Hanoi (Vietnam), the first of this festival was held in April 2014 in Granada (Spain). And I am also trying to setup a sort of
artist/researcher residency space/program somewhere in Asia focusing on the development of trans* art/history, and I will be taking the opportunity of being there to find a suitable location for this. The grant would be used to fund all of these projects.
www.onemannation.com
Eine Zusammenarbeit von ON – Neue Musik Köln, Gold+Beton auf Einladung von freies rheinland e.V. c/o Georg Dietzler
www.on-cologne.de